Saturday, February 2, 2019  2 p.m.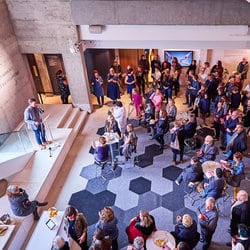 New exhibitions at the MAJ!
We are happy to invite you to our new exhibitions in an opening reception on Saturday, February 2, 2019, at 2 p.m. The event is free and open to all.
Programmed activities
– Guided tours of the exhibitions led by artists and curators
– Creative workshop for the whole family
– Performance by choreographer Adam Kinner, in collaboration with dancers Hanako Hoshimi-Caines, Louise Michel Jackson, Kelly Keenan, Justin de Luna and Mulu Tesfu and with the support of Théâtre Hector-Charland and Notre-Dame-des-Prairies
New Exhibitions
Not to be missed!
– James Wilson Morrice. The A.K. Prakash Collection in Trust to the Nation
– Of Tobacco and Sweetgrass: Where Our Dreams Are (Group show by contemporary Indigenous artists)
– Adam Kinner. Suite canadienne, a performance
– Kids at work (youth exhibition)
Shuttle bus service Montreal–Joliette (MAJ Express)
Take the MAJ Express!
Cost: only $10, to and from the MAJ
Departure from Montreal at 12:30 from the central bus terminal
(métro Berri-UQAM, 1717 Berri Street, terminal no. 10)
Departure from Joliette at 5 p.m. from the MAJ
(arrival at Montreal around 6 p.m.)
Bus ticket
---
Bus from Montréal
Terminus Radisson (Métro Radisson, 7155 Sherbrooke East)
Bus 50, wharf no. 5.
Please consult the schedule
Duration: 50-55 minutes (express bus)
Ticket: available at the desk
Cost: $10.50  (Opus card accepted)
---
Already a member of the MAJ?
A 10% discount at the bar is available to our members during the vernissages, upon presentation of a valid membership card.
BECOME A MEMBER
---
Images in the banner:
© Romain Guilbault, 2018.