Residency: January 28 – February 1 | Performance: Saturday, February 2 • 4 p.m.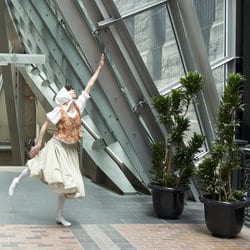 Suite canadienne, a demonstration
During his artist residency at the Musée d'art de Joliette, choreographer Adam Kinner revisits Ludmilla Chiriaeff's Suite canadienne, a masterwork designed by the founder of Les Grands Ballets canadiens.
By re-performing that cultural moment today, and rethinking the resonance that Chiriaeff's work still has, Kinner invites us to look at Québec's history through another lens.
Following a week-long residency at the MAJ, Adam Kinner will present a performance of Suite canadienne, in collaboration with a group of dancers composed of Hanako Hoshimi-Caines, Louise Michel Jackson, Kelly Keenan, Justin de Luna and Mulu Tesfu. Coming from different disciplinary and training backgrounds, the dancers compose a heterogeneous group that uses intentional misreading and hypnotism to approach the original work.
---
January 28 – February 1, 2019
Residency
Free access for the members of the MAJ  | Free access for the non-members of the MAJ with an entrance ticket to the exhibitions
Saturday, February 2, 2019 • 4 p.m.
Performance during the vernissage
Free and open to all!
---
Image in the banner:
© Adam Kinner, Suite canadienne (2015). Credit: Emily Gan, 2015.
---
In collaboration with: Ville Notre-Dame-des-Prairies | Théâtre Hector-Charland.
We acknowledge the support of the Canada Council for the Arts.