Sundays, October, 20, November 10, and December 8 · 2 p.m | 3 p.m.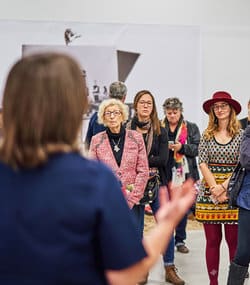 Follow the guide!
Can a museum visit be loads of fun? Absolutely! The MAJ presents a playful and colourful – not to mention informative and inspiring – tour of the museum's temporary exhibitions.
Please arrive at the reception desk ten minutes before your tour.
Duration: 60 minutes.
---
Marina Gadonneix
Phenomena
Sundays, October, 20, November 10, and December 8 · 2 p.m.
In her photographic series Phénomènes [Phenomena], Marina Gadonneix explores scientific models that replicate natural events by probing the theatricality of the laboratory. Through their artificial (re)production, these phenomena (an avalanche, a tornado, lightning, and so on) literally take shape and become things—entities that we can now grasp.
Patrick Coutu
The Attraction of the Landscape
Sundays, October, 20, November 10, and December 8 · 3 p.m.
Both abstract and firmly grounded in materiality, Patrick Coutu's works, whether two- or three-dimensional, probe the construction of form. Through seemingly simple gestures, the artist reveals the complexity of seascapes and underwater formations, of landscapes whether rugged or luminous. A fold stands in for the horizon, an algorithm plants a garden.his first major solo show looks back on the artist's 30-year career and features several new works.
Information
Members: free
Non-members: payable access
Guided group tours are also available, upon reservation, for schools, companies and clubs.
Information and reservations: the Education section
---
Image in the banner
© Photo: Romain Guilbault, 2018.