About —
Group show – contemporary indigenous art
Each winter, spikes of ice rise from the meanders of the Outaragasipi River outside the luminous Musée d'art de Joliette. This season, a group of contemporary indigenous artworks will warm the museum's interior. Their shapes inspire wonderment, evoke aromas of tobacco and sweetgrass, reveal a colourful visual spirit, make enchanting sounds. Their imagery-rich stories speak of Nitaskinan, the land. With the group show De tabac et de foin d'odeur. Là où sont nos rêves [Of Tobacco and Sweetgrass: Where Our Dreams Are], the museum will showcase astonishing – and nomadic, in a sense – indigenous artistic practices oscillating between materiality and invisible energies, aesthetics and ethics, the museum interior and exterior. This indigenous vision points to a necessary re-wilding of our relationship with the planet, and invites us to renew our mutual relations. Will we change our visions of the world?
Artists Eruoma Awashish, Jacques Newashish, Catherine Boivin and Terry Randy Awashish (Atikamekw) join Christine Sioui Wawanoloath (Waban A'ki), Hannah Claus (Kanienke'a:ka) and Sonia Robertson (PekuakamIlnuatsh). Caroline Monnet (Anishinabe) presents a work made in collaboration with Daniel Watchorn, and a second made with Ludovic Boney (Wendat), produced by the National Film Board of Canada. Wendat curator Guy Sioui Durand is the architect of this imaginary camp whose roots are ancient, yet also engaged with the future.
Several works will be exhibited in unexpected places, both in the museum and in the city.
Sunday, April 28 • 2 p.m.
End of the exhibition
As this exhibition of contemporary Indigenous art winds down, the MAJ invites you to take a one-hour guided tour with the curator, followed by a performance.
This event is free and open to all!
Interview with Eruoma Awashish
Images in the banner:
Ludovic Boney et Caroline Monnet, Hydro, multimedia installation, 72×96 po. View of the exhibition, Musée d'art de Joliette, 2019. Photo: Romain Guilbault, 2019. © National Film Board of Canada 2016.
© Hannah Claus. Water song, view of the exhibition, Musée d'art de Joliette, 2019. Photo: Romain Guilbault.
© Sonia Robertson, Le sang de la terre-mère, view of the exhibition, Musée d'art de Joliette, 2019. Photo: Romain Guilbault.
© Jacques Newashish, Nikastinan, view of the exhibition, Musée d'art de Joliette, 2019. Photo: Romain Guilbault.
---
Partner organization for this exhibition: Aboriginal Curatorial Collective
In collaboration with New Chapter and the National Film Board of Canada:
Thanks to our partners, Centre d'amitié autochtone de Lanaudière and Waskapitan, Ciné-répertoire de Lanaudière and Kiwimédia.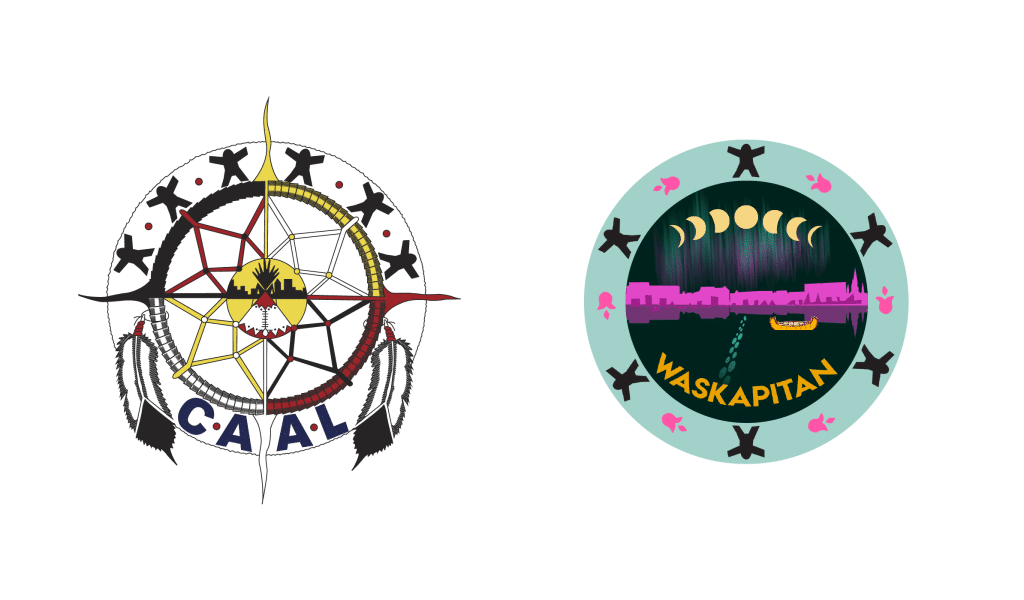 ---
Curator's Word
Icy plumes rise from the winding currents of the Outaragasipi River that flows in front of the Musée d'art de Joliette. Its waters seem to smoke tobacco and sweetgrass. This winter smoke will take us where our dreams are.
At the Musée, an impressive group of artists become dreamcatchers of sorts. They turn rebellious energies into images, ceremonial objects, short films, sculptural installations, paintings, photographs and nomadic performances. The common characteristic of these Indigenous artworks is the combined fluidity of hot tobacco smoke and the icy vapour of whitewater. Imagination overflows in the city. It occupies all six directions, adding to the four cardinal points a sacred element that is anchored in Mother Earth and connected to the celestial world of the Okis, or protective spirits.
These works creatively reflect the shamanistic energy of ceremonial tobacco, the three drums—Innu, Atikamekw and Wendat—and the deer shoulder blade suspended high above the lobby. Waban A'kis and Wendat artist Christine Sioui Wawanoloath immediately projects us into this world with her large illustration Là où sont nos rêves [Where Our Dreams Are], installed on the lobby's large glass walls. Her second piece, Esprit du rêve  [The Dream's Spirit] guides us toward the main gallery.
There, two flowing, aerial installations undulate and radiate. Le sang de la Terre-Mère [The Blood of Mother Earth], by Sonia Robertson of Mashteuiatsh, links the healing powers of river water to the wishes of women from the Lanaudière and Val-d'Or Native Friendship Centres. The second installation, inspired by a melody composed by an Atikamekw woman, is inscribed in the series water songby Kanien'kehá:ka artist Hannah Claus. Elsewhere, Jacques Newashish transports forest life into the white cube by stretching a prospector's tent over poles gathered on the land, thus giving a nomadic feel to his in-between-worlds. His proudly rebellious peer, Atikamekw artist Eruoma Awashish, focuses on youth with her work Poings levés vers l'avenir [Fists Raised to the Future]. Her mural Onimiskiw,named after her daughter, was created in situ in the Musée's corner vitrine, and is visible from outside the museum.
Hydro is a dramatic installation by Anishinaabe artist Caroline Monnet and Wendat artist Ludovic Boney. It upends our domestic understanding of the cabling, recording and lighting technologies that rely entirely on dams, reservoirs, flooding and displacement, as experienced by the Eeyou Istchee, Algonquin and Atikamekw Nations. Other works transform this exhibition into a veritable multidisciplinary event: a short film by Caroline Monnet and Daniel Watchorn on residential schools inserted within the Musée's permanent exhibition on the theme of the sacred; Catherine Boivin's video selection; the twelve feminist photographs from the cross-Canada project Resilience presented on billboards throughout the city of Joliette; and a performance by emerging artists Catherine Boivin and Terry Randy Awashish, which will take place at the closing of the exhibition.
This is my vision of Wendat. Between esthetics and ethics, astonishment and wonder, I wish to "rewild" our relationship to the world and encourage the renewal of mutual relations. This imaginary camp holds ancient roots that are bound to the future.
Guy Sioui Durand, Guest curator
---
Biography —
A member of the Wendat (Huron) nation from the community of Wendake, Guy Sioui Durand is a member of the Wolf clan. He holds a PhD in sociology and is an art critic, independent curator, sought-after speaker and performer. Sioui also creates spoken-word pieces that express indigenous orality. Contemporary and indigenous art are his areas of expertise. In the winter of 2019, he is teaching Art autochtone moderne et contemporain (modern and contemporary indigenous art) at the Institution Kiuna in Odanak and in the department of art history at UQAM.
Sioui Durand is the author of several books, including L'Esprit des objets (2013), Riopelle. Indianité (2002), Les très riches heures de Riopelle (2000) and the reference work L'art comme alternative. Réseaux et pratiques d'art parallèle au Québec (1997). He has three books in progress: Ohrehta'. Art Sauvage en Kébeq et Kanata; L'art, sans alternative. Art actuel du Québec au Monde, tome 2; and Sehiatonhchotrahk. Écrits littéraires. He has written several pieces of art criticism for catalogues, periodicals and online publications.